10 Holiday Gift Ideas for Car Enthusiasts
As fellow car lovers, we know how exciting it can be to receive car gadgets for your beloved vehicle. In today's post, we have gathered ten unique holiday gift ideas for the car enthusiasts in your life. 
Engie: Your Car Maintenance Solution
Engie is a high-tech device with Bluetooth capabilities. Ideal for car owners who are big on maintenance and car health, this gadget can connect to a car's computer to track the overall health of the car.
Designed to diagnose over 10,000 system faults, Engie also uses real-time quotes from nearby mechanics to give you an idea of your maintenance costs. Live tracking of fuel consumption and fuel costs is another handy feature that makes it easy for any car owner to care for their vehicles.
Rotating Air Freshener
What better way to eliminate car odors than with a unique-looking rotating air freshener?
This gadget is designed to get rid of all bad odors, including the smell of smoke. At the same time, it emits a fresh and natural aroma to make the interior of your car a more inviting place to be. Also, it comes in a beautiful package with 5 replacement smell pads.
OBDelven 
The OBDelven is another high-tech Bluetooth device designed to make car maintenance a joy! Simply plug into a car to run the full system diagnostic test. It will give the car lover in your life the peace of mind they need when it comes to their vehicle's health.
Additionally, this device runs with the free OBDelven application, which conveniently comes in many different languages. A DIY manual for troubleshooting car problems is also available to save yourself a trip from the mechanic's.
Purifu: Car Air Purifier & Ionizer
Nobody enjoys being stuck in a smelly car. This is especially true if you or someone you know spends hours a day commuting in their vehicles.
Luckily, Purifu has created a special air purifier and ionizer for car interiors. This gadget features a sleek, futuristic design and is incredibly easy to use. Simply plug it into the power outlet to eliminate odors, including the smell of smoke. Purifu has also designed this purifier to remove microscopic particles so you can breathe better.
Wireless Phone Charger
This futuristic-looking gadget is designed to work with all Qi-enabled smartphones, such as the Samsung Galaxy 6 or the Google Nexus. It contains a single USB port and is compact and elegant.
Additionally, the device features a 360° rotating holder so you can view your phone screen from any angle. It is ideal for those wishing for a hassle-free way to charge their phones as it eliminates the need for cables.
Carpack Organizer
This ultimate car organizer has been featured on Kickstarter as the best organizer for de-cluttering your car. It is ideal for those who spend a great amount of time travelling for work as it prevents belongings from sliding off the car seat.
Additionally, the Carpack organizer is designed with a handle and zippers so you can use it like a briefcase. Simply zip up the zipper with all your belongings inside and you are good to go!
I am Decals
I am Decals grew from another popular Kickstarter campaign with 44 backers and counting. The business allows you to make your own car sticker design online to be printed and shipped to your house.
This is ideal if you are a creative person with a flair for all things DIY. Simply go on I am Decal's website, make your design, and gift it to the car lover in your life so they can remember you every time they see your design!
3D Pet Headset Pillow
Ideal for the mischievous one in your life, this 3D Pet Headset Pillow features a unique eye-catching design that is bound to grab everyone's attention!
What's more? It functions as a fluffy pillow that ties down to your headrest without damaging your seat. It also comes in 10 different designs such as the husky head or tiger head so you can have fun choosing the perfect one.
Super Ceramic Coating
This useful ceramic coating is designed to protect car paint from scratches and UV rays. It also adds an extra shine for that freshly-waxed look. Additionally, it is easy to apply and lasts for over two years! It also comes with a sponge so you can apply it straight away.
This product is also in high demand. Make sure to order early so you can get it in time for the holiday season!
Wireless Automatic Car Tent
Marketed as the world's first wireless automatic car tent, this one-of-a-kind gadget is designed to shade your car from the strong rays of the hot summer sun.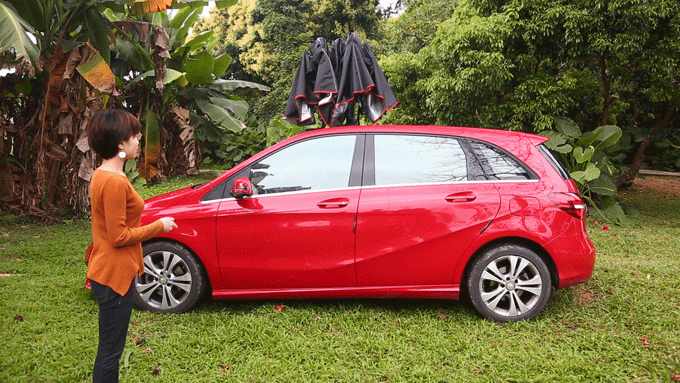 The automatic car tent opens with a single click and can be controlled by a tiny wireless remote controller. It can be easily fitted onto the roof of your car and opened in 8 seconds! What's more? It even functions as a regular beach umbrella to protect both you and your car!
Bonus: Car Christmas Decoration
Turn your car into Santa's ride with this festive DIY Christmas decoration kit.
Happy holidays, y'all!